The Peace and Slave Rivers
The waters of the Peace River begin as streams in the watersheds of the Finlay and Parsnip rivers of the Rocky Mountains of British Columbia and then flow into Williston Lake, the large reservoir created in 1967 to supply the WAC Bennett hydroelectric dam. From there, the Peace flows into Dinosaur Lake, the reservoir feeding the Peace Canyon dam. Below the Peace Canyon Dam, the Beatton and East Pine rivers join the Peace and, approximately 25 km farther downstream, the Peace River enters Alberta.
The Smoky River, with headwaters near Mount Robson in the Rocky Mountains, is a major tributary of the Peace River, flowing into the Peace near the Town of Peace River. The Smoky drains the Wapiti River, Little Smoky River, and a number of smaller rivers. The headwaters of the Wapiti also originate in the Rocky Mountains.
The Cadotte River empties into the Peace from the east downstream of the Town of Peace River, followed by the Notikewin, the Buffalo, and the Boyer. Nearly 500 km from the Town of Peace River, and downstream of the hamlet of Fort Vermilion, the Wabasca River enters the Peace. Next the Mikkwa joins the Peace, and then the Wentzel, which flows into the Peace just downstream of Fox Lake. The Peace then enters Wood Buffalo National Park and another 311 km downstream comes to Peace Point.
The river then passes Carlson Landing before reaching the junction with the Rivière des Rochers, which is one of the main channels for water from the Athabasca watershed and the Peace-Athabasca Delta. The Slave River begins at this point, flowing north into the Northwest Territories downstream of Fitzgerald. More than 300 km later, it reaches Great Slave Lake, which eventually drains into the Arctic Ocean down the Mackenzie River.
The Peace-Athabasca Delta

4
Approximately 3,820 km2 in size, in the southeast corner of Wood Buffalo National Park.
Includes three river deltas, four large freshwater lakes and rich growths of aquatic vegetation.
One of the continent's last relatively undisturbed deltas.
A product of periodic flooding.
One of the most important nesting, resting and feeding areas for numerous species of water birds and a key link in four major flyways for migratory birds.
Plays host to 400,000 birds during spring migration, and more than a million in the fall. The Delta meadows provide grazing for several hundred free-roaming bison, one of 44 mammal species recorded.
A wetland of global importance, also known as a Ramsar site.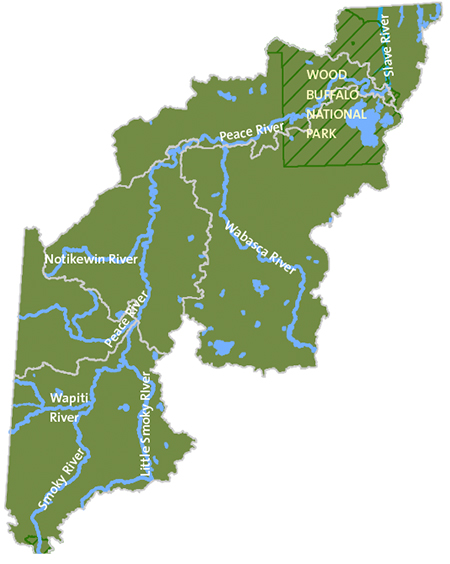 The Mackenzie River
The longest river in Canada is the Mackenzie, which runs for more than 4,241 kilometres. It is the fourth-largest river system to flow into the Arctic Ocean, to which it discharges approximately 306 cubic kilometres of water each year and 100 million tonnes of sediment.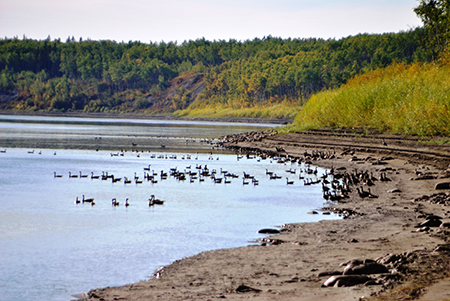 MORE ABOUT THE DELTA AT:
www.pc.gc.ca/pn-np/nt/woodbuffalo/info/action/SEA_EES/bulletinm