Biological Community
Wildife
While a complete biological inventory of the watershed is unfeasible, fish act as a useful indicator of aquatic ecosystem health. Fish are valuable to people, sensitive to disturbance, and often have a recorded history. They are sensitive to the quality and quantity of water in rivers and streams. They can be affected by harmful substances and by the habitat fragmentation that results from removing vegetation along waterways or building stream crossings and water-control structures. Comparing the density of sensitive fish species between sub-watersheds can help managers prioritize conservation activities.
The densities of two species sensitive to human activities, arctic grayling and walleye, suggest populations in the Peace River are relatively healthy. They are also healthy in the larger tributaries, such as the Smoky, Little Smoky, and Wabasca rivers.
Densities in smaller tributaries, where fish are strongly affected by land use, are moderate to low. In spite of human land use, arctic grayling continues to occur in moderate to high densities in the Little Smoky River, most likely due to fishery restrictions. However, densities are low to moderate where cumulative land uses have caused declines in spite of fishery restrictions.
Local extirpations of arctic grayling have occurred in highly developed areas adjacent to the City of Grande Prairie, in the Beaverlodge River system, and next to the Town of Peace River, in the Heart River system.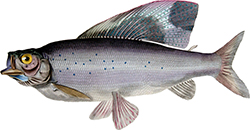 Arctic Grayling Walleye
Fish populations in some lakes are under stress from fishing, loss or alteration of habitat, and lack of oxygen resulting from nutrient loading. Population status in lakes is typically correlated with proximity to urban development (representing fishing pressure) and surrounding land use.
The two figures at right are from Peace & Slave State of the Watershed Aquatic Ecosystems (February 2014) . White areas indicate no data.