Surface Water Quantity
The Mighty Peace
Each year, about 48.6 billion m3 of water flows into Alberta via the Peace River, or roughly three times the combined amount of all the rivers in southern Alberta.17 The river's largest tributary in Alberta, the Smoky River, contributes an additional 11 billion m3 annually. The Little Smoky and Wapiti rivers, and numerous smaller creeks and rivers, also make contributions. Farther downstream, the Notikewin and Wabasca rivers and their tributaries add even more to the flow. Finally, the Peace contributes approximately 65% of the average flow of the Slave River.
The quantity of water in the Peace and other major rivers in Canada are measured regularly, so that significant changes can be investigated. Like most rivers, the flows of the Peace are seasonal, with higher flows in early summer and lower flows in the fall and winter. The flow of the Peace rises dramatically after it is joined by the Smoky River.
River Flow Gauging Stations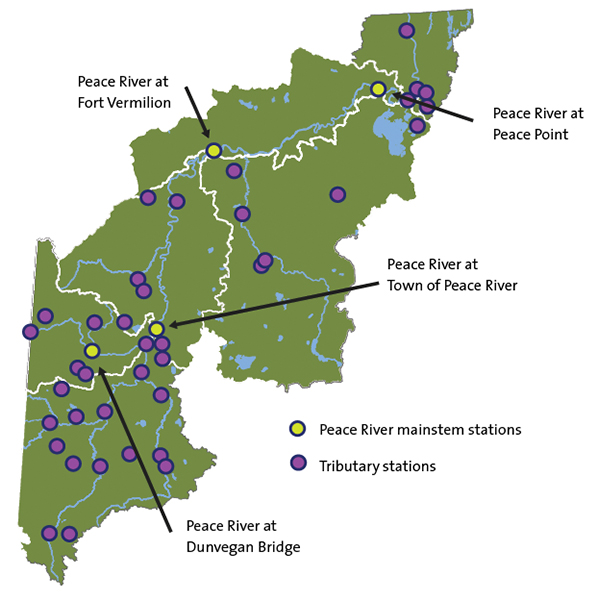 At both Peace Point and Fort Vermilion, flows increase slighty
due to surface runoff/tributaries other than the Smoky River.
MORE RIVER FLOW DATA AT:
www.environment.alberta.ca/apps/basins/Map.aspx?Basin=1&DataType=1