Get to the Know the Mighty Peace watershed

HOVER ON MAP NUMBERS AND OTHER ELEMENTS FOR DETAILS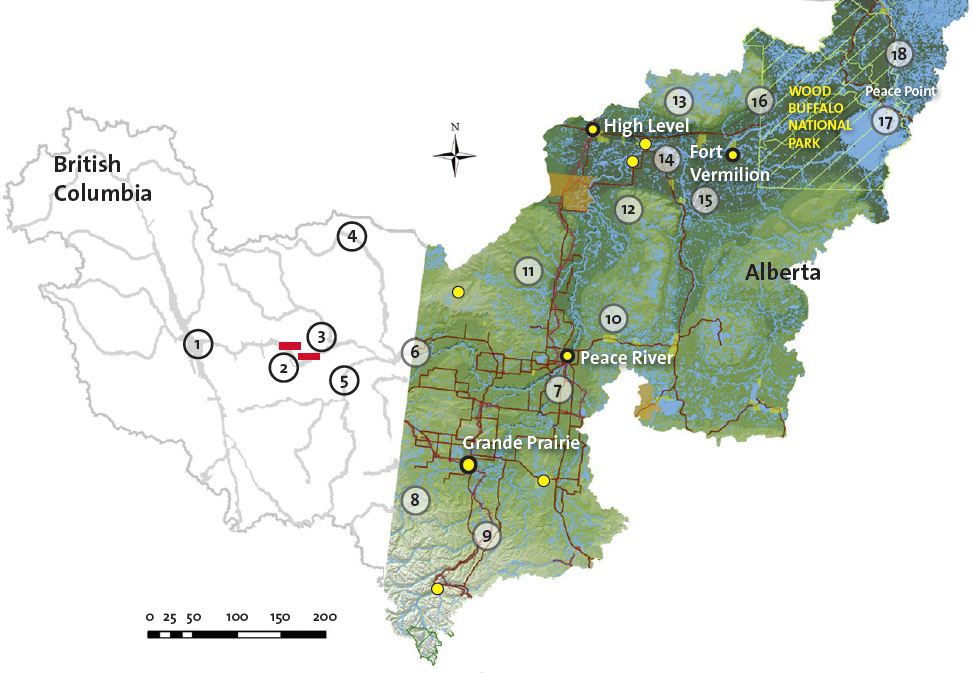 WHAT SHAPED THE LAND
145 – 2.5 Million
(years before present)
Climate warm. Dinosaurs, marine animals and primitive plants the dominant life forms. Entire region frequently covered by a great inland sea. Bedrock and major hydrocarbon deposits created. Coal beds formed. Mountains rise to the west, changing drainage patterns from west to north. Rocky Mountains rise, major land forms established. Dinosaurs disappear, mammals, birds, insects and flowering plants dominate. Mastodons, sabre-toothed cats and giant bears are common, followed by horses, bison, mammoths, wapiti and camels as the climate becomes cooler and drier.
2.5 million – 10,500
Ice Age. Successive periods of glacial advance and retreat, scouring landscape, creating glacial till. As glaciers melt, rivers form beneath them, creating sand and gravel deposits. Last glacial maximum occurred approximately 21,000 years ago. Modern-day Peace River and tributaries form.
10,500 – Present
First people arrive via land bridge from Asia. Many large animals go extinct. Dunne-za (Beaver) inhabit region, as do the Dene-tha (Slavey).
KEY POINTS IN MIGHTY PEACE HISTORY
1785
(approx)
Beaver and Cree reputedly negotiate peace at Peace Point. River becomes knows as "Unchaga,"the Beaver word for Peace.

1788-1880s
Fort Vermilion established. Over 20 trading posts throughout Peace watershed over the years, serving as centres of trade, missionary influence and agricultural experimentation. Influxes of traders leading to birth of Métis Nation in northern Alberta. Fort Dunvegan established but closed as trading post by 1918. Currently a park. Steamboats ply the river, which remained a major freighting route well into the 20th century.
1899
Oil and gas discovered at Tar Island, 25 km downstream of Peace River town. First oil well drilled in region in 1915. By 1919 big oil strikes attract workers and speculators to area. Treaty 8 signed.

1900-1909
Settlers arrive in waves over the years.

1911
Ferry service at Dunvegan. Served until 1960 when Dunvegan Bridge opened. First rail service across Peace River.

1917
Agricultural research station founded at Beaverlodge.
1922
Wood Buffalo National Park established, granted World Heritage status by UNESCO in 1982/83 and named a Ramsar wetland of international importance.

1945
Waves of development. Exploration for and production of oil and gas, construction of roads, rail lines. Grande Prairie becomes a city in 1958.

1967
Bennett Dam completed at Hudson Hope creating Williston Lake. Peace Canyon dam constructed in 1980.

1972
Major coal development begins near Grande Cache. Construction of pulp mills at Grande Prairie and Peace River follow.

1979
Development of heavy oil deposits north of the Town of Peace River.

2000
High Level Lumber opens the largest sawmill in Alberta.

2000s
Development of steam-assisted gravity drainage (SAGD) recovery technology, especially in the Wabasca sub-basin. Plans for major heavy-oil recovery projects in the upper end of the Central Peace sub-watershed.

2011 Population of watershed 165,000. Grande Prairie has
> 55,000 people.