Land Use
Human influence on watersheds can be measured using an index developed by the Alberta Biodiversity Monitoring Institute called the Human Footprint. The index combines data on several variables to identify the extent of the impact. By updating the index over time, researchers can spot trends and identify ways to mitigate undesirable impacts through management plans and practices.

14

According to the Human Footprint from 2010, the Mighty Peace watershed is largely undisturbed. The Human Footprint covers only about 15% of the entire watershed (31,534 km2), although most of this disturbance is concentrated in the Upper Peace and Smoky/Wapiti sub-watersheds.

Agriculture is the primary contributor to the Human Footprint in the watershed. It plays a major role in the watershed's economy and is expected to expand with growing populations. Agricultural practices and impacts vary from one farm to another. In combination, these impacts can have a greater impact on the overall health of the watershed. Farm managers and watershed planners can ensure agricultural and ecosystem sustainability by employing best practices consistent with the Water for Life goals.
Human Footprint (HFP) in Each Sub-watershed
(% of Sub-Watershed Affected)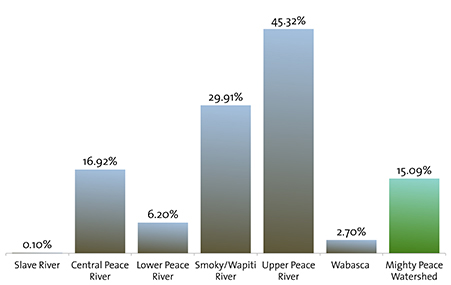 Source: ABMI
Hover to magnify map